One of a series of four pieces looking at how the best hitters dominate pitches thrown to different areas.
Every hitter in baseball has a certain part of the zone they absolutely love a pitch to be located in. I wanted to look at the outside and inside quadrants of the zone to see which players are the best and what makes them the best. 
I looked at some data for each quadrant and picked the player that really stood out in each. Then I dove into some video to see why each hitter has the ability to do so much damage in that zone.
Best Hitter vs Outside Pitches
Corbin Carroll
The numbers
Per our internal tracking, these are Carroll's numbers on pitches we classify as being on the outer-third of the plate or off the outside corner.
| | | | | | | | |
| --- | --- | --- | --- | --- | --- | --- | --- |
| AB | AVG | SLG | OPS | 2B | HR | K | Miss% |
| 105 | .362 | .686 | 1.128 | 6 | 8 | 26 | 21% |
Corbin Carroll hasn't just been one of the best rookies in baseball, but one of the best players. His ability to cover the outside part of the plate is exceptional. Carroll doesn't just slap singles to the opposite field, he hits for power. 
This spray chart from Baseball Savant shows all of his hits this season. Carroll loves to use the left side of the field.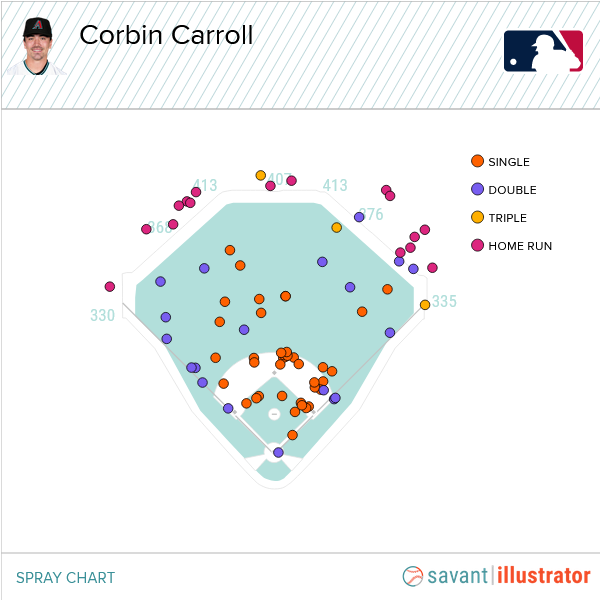 Carroll is 2nd in MLB with a 1.020 slug to the opposite field. He leads MLB with 7 HR to the opposite field, ahead of Pete Alonso, Rafael Devers, and Randy Arozarena. 
Carroll's .362 avg is well above the league average of .221 on pitches away. While his slugging percentage of .686 is more than double the league average(.325). He is particularly good against right-handed pitching, against whom he has 8 home runs on outside pitches.
If you pitch him up and away he's going to torch the ball. In at-bats ending on pitches in the zone up and away Carroll has 9 hits (1 2B, 4 HR) and an average exit velocity of 97.4 MPH. That's Carroll's highest average exit velocity in any part of the zone.
Carroll doesn't care what pitch you throw him. His pitch recognition is exceptional and his willingness to go the other way gives him the ability to hit fastballs, breaking balls and offspeed pitches.
Lefties don't pitch him away as much since it's easier for them to pitch him inside. I think we're gonna see a lot more of him getting hit by pitches. Matt Strahm, a lefty for the Phillies, hit him in back to back plate appearances which led to the benches clearing. When lefties do pitch Carroll away, he has no problem handling it.
Video Breakdown
There are a few things that stand out in his swing that make Carroll such a great hitter:
The

drift forward

once he lifts his leg, keeping all the power anchored in his back leg ready to explode forward.

The

quiet hands

. Once he gets crouched down the hands do not move. They follow his body as he drifts but they stay at the same height and angle the whole time

The

connection

. His hands follow the rest of his body. Watch how his hands follow his left hip through the zone.
Side view of Home Run vs Brent Honeywell Screwball (middle away)
HR vs Tanner Houck 4-seam
His ability to keep his bat level through the top of the zone helps him get to this pitch. His bat is practically horizontal when he is getting ready to swing. This means the barrel's path to the high pitch is as short as possible.
Grand Slam vs Will Vest 4-seam
Carroll keeps his front shoulder closed as long as he can, letting the ball get deep. He trusts his hands to get to the ball and knows he has the power being generated from his lower half to really drive it. 
One thing I love here is that with 2 strikes Carroll cuts his swing down and still hits a grand slam. He goes to a two-hand follow through on this swing, usually he lets go with one hand.  
Carroll's swing mechanics combined with his ability to recognize pitch type and pitch location make him one of the best outside quadrant hitters in baseball. Pitchers should proceed with caution when they want to pitch him there.