Photo: Cliff Welch/Icon Sportswire
J.D. Martinez has been one of the best hitters in baseball for multiple years now. One thing that really separates him from the rest is his willingness and ability to evolve at the plate.
Since he signed with the Tigers in 2014 he's had a wRC+ of at least 119 every full season. (2020 shortened season his wRC+ was 76). Teams must have thought Martinez would start to decline since he's 35 years old now which is why the Dodgers were able to sign him for a 1 year, $10 million contract before the season started.
The deal was an absolute steal for the Dodgers. He currently has the 6th best slugging percentage (.558), 7th best hard hit% (55%), 5th best barrel% (18%), and his 127 wRC+ is good for 31st in baseball.
One of the areas Martinez has been able to transform is his ability to hit pitches up in the zone (and above it). He was never a terrible hitter against high pitches but this season he has turned into one of the better ones in baseball. Here are his numbers:
J.D. Martinez vs Pitches in Upper-Third Of Strike Zone & Above
| | | | | | | | |
| --- | --- | --- | --- | --- | --- | --- | --- |
| AB | AVG | SLG | OPS | 2B | HR | K | Miss% |
| 70 | .288 | .638 | .971 | 5 | 7 | 29 | 31% |
Martinez's numbers, especially his slugging percentage, blow away the league averages on pitches in the upper-third and above. League averages: .229 avg, .392 slug, .737 ops.
In 2022 Martinez hit .303 against high pitches but he was not slugging nearly as well as he is this season. In 76 ABs he slugged .461 with 2 HR and 6 2B. He's being more aggressive in 2023, swinging at 49% of pitches in this area (45% in 2022) and swinging and missing less (35% in 2022).
This heat map from Baseball Savant shows Martinez's HRs this season. The majority of his HRs have been hit on pitches located middle up or up and away.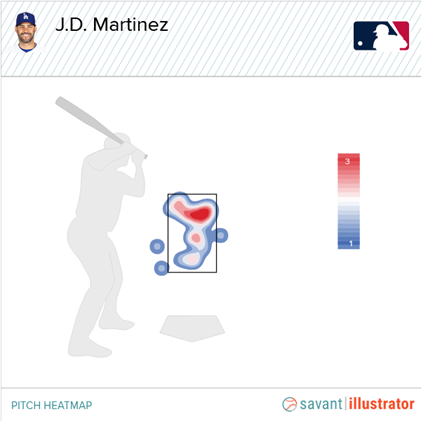 Martinez has done most of his damage up in the zone against fastballs, as you'd expect, with 5 of those 7 home runs hit against them. He's 5-for-8 with 2 home runs against (likely inadvertently-thrown) high sinkers.
Pitchers can get Martinez to chase fastballs if they get them up out of the zone in the right spot. He has a 47% chase rate and 39% whiff against 4-seamers up, striking out 22 times.
Video Breakdown
Martinez has spoken extensively in the past about how much watching video helps him at the plate. So what are a few things he's looking for?
Rubber band effect. Similar to what I touched on in my Mookie Betts breakdown, Martinez relies on the rubber band effect. When he lifts his leg he starts to load his hands backwards and up. Once his foot touches down he begins to bring his hands through the zone. The timing is key for J.D.
Keeping the back elbow tucked. No matter where the pitch is located, Martinez likes to keep his back elbow tucked until he makes contact with the ball. It helps him stay through the ball and keep his barrel in the zone for as long as possible.
Rotation of his top half. Martinez stands practically straight up and really doesn't hit with his legs too much, which shows you how strong he is. All of his power is coming from his top half. Focus on his back foot, it doesn't pivot as much as other hitters. Martinez isn't building energy from the ground up. All the energy and power is being generated from his core and upper body.
Ump cam view of 3 run HR vs Musgrove (hanging slider)
J.D. for three! 💣 pic.twitter.com/3Cd0n6vVzR

— FOX Sports: MLB (@MLBONFOX) May 13, 2023
Martinez takes full advantage of a 0-2 hanger from Musgrove. The ump cam is a great look at Martinez's load and how he is able to keep his barrel in a great hitting position for as long as possible.
Broadcast view
Go ahead, JD! 🙌

Dodgers take the lead!

📺: FOX pic.twitter.com/kWlKEo8wxc

— FOX Sports: MLB (@MLBONFOX) May 13, 2023
Double vs Alvarado  
This double off José Alvarado also comes with 2 strikes. Alvarado's cutter is one of the nastiest pitches in baseball. Hitters are 7-for-39 against it and 4-for-31 when he throws it with 2 strikes.
Top 8th – Crew Chief reviews call that J.D. Martinez does not hit a home run; call confirmed, it is not a home run. Powered by @Zoom. pic.twitter.com/QVlgqrUnLC

— MLB Replays (@MLBReplays) June 10, 2023
Martinez's bat is at around a 45-degree angle when he's ready to bring his hands down to swing. That angle helps him reach these pitches up since it minimizes the distance the barrel needs to travel.
The rotation of his top half is really evident here, you can read his entire name on the back of his uniform when his front foot plants. Even though his top half is rotating so much his head is staying completely still and his eyes are focused on the point of contact.
HR vs Trevor Williams
On a 1-0 count Martinez is happy to go with this fastball away and drive it to the right center field gap.
J.D. with a 3-run home run 💥 pic.twitter.com/WaFKbdYxWF

— SportsNet LA (@SportsNetLA) May 30, 2023
Most hitters try to pull this pitch. As I mentioned before, even on this up-and-away pitch, Martinez keeps his back elbow tucked until after he makes contact with the ball.
Wrap up
There are better hitters than Martinez when it comes to hitting the high pitch. Both Ronald Acuna Jr. (.407/.797) and Shohei Ohtani Jr. (.387/.882) are ridiculous up there. But I wanted to spotlight how Martinez's evolution at the plate to be better against pitches in the upper part of the zone has taken him to a new level and made him a vital part of the Dodgers' offense.