One of a series of four pieces looking at how the best hitters dominate pitches thrown to different areas.
Every hitter in baseball has a certain part of the zone they absolutely love a pitch to be located in. I wanted to look at the outside and inside quadrants of the zone to see which players are the best and what makes them the best. 
I looked at some data for each quadrant and picked the player that really stood out in each. Then I dove into some video to see why each hitter has the ability to do so much damage in that zone.
Best Hitter vs Inside Pitches
Mookie Betts
The numbers
| | | | | | | | |
| --- | --- | --- | --- | --- | --- | --- | --- |
| AB | AVG | SLG | OPS | 2B | HR | K | Miss% |
| 82 | .329 | .744 | 1.230 | 4 | 10 | 13 | 14% |
Betts' .329 avg on inside pitches is around .100 points higher than league average (.244). His .744 slug is almost double the league average(.423). Betts isn't just taking his hits, he's mashing pitches inside. 
When Mookie Betts is at the plate there's three things he's focused on:
Lift the ball

Pull the ball

Hit the ball hard
Betts ranks 12th in MLB in fly ball (48%) and 18th in pull percentage(48%). He also ranks 43rd in Hard Hit% (46%). This has translated to a .407 avg and a .898 slug when he pulls the ball. 
This spray chart from Baseball Savant is for all of his balls in play. The majority of his hits are to the left side of the field, especially when he goes for extra bases.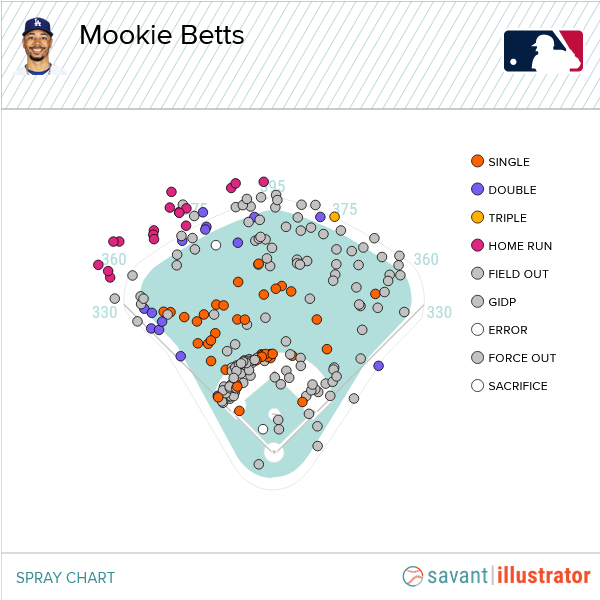 This is why Mookie is able to crush pitches inside, primarily inside and down. On pitches down and in and in the strike zone, Mookie has 9 hits (2 2B and 5 HR). His average exit velocity is 98.7, his highest in any zone. 
If you're trying to get a swing and miss inside, good luck. He has a 14% miss rate on those pitches.
Mookie's favorite pitches inside are sinkers and sliders and it doesn't matter if he's facing a lefty or righty. Six of his home runs have come against those pitches.  He has no real holes inside against righties.
Betts does struggle somewhat against 4 seamers from lefties, mostly if they pitch them up and in but he still crushes sinkers and sliders from lefties. 
Video Breakdown
A few things in Mookie's swing that make him one of the best hitters in baseball:
"Rubber band effect". Betts has the drift just like we saw with Corbin Carroll (article about him here). The difference is Mookie's hands are moving backwards as the rest of his body is moving forward. Once his front foot touches down he starts to explode his hands through the zone.

The

direct path of the barrel.

He doesn't waste any motion in the swing. The barrel takes the shortest path possible. A lot of hitters that want to lift the ball have long loopy swings but Mookie's is short and direct.

The

follow through.

He doesn't have a big follow through like we see so often in baseball now. Betts holds on with both hands and a lot of times the bat doesn't go past his left shoulder. 
I was watching the U.S. Open while writing this and noticed Betts swing is very similar to a golfer hitting a wedge: Dropping the head of the club/bat directly to the ball and having no follow through.
Searching Twitter I found a video of Betts golfing in 2022 and the swings are very similar. 
Gold Glove on the diamond.
Gold style on the course.@MookieBetts 🏌️ pic.twitter.com/pBbc3ydD9K

— PGA TOUR (@PGATOUR) February 4, 2022
Side view of HR  vs Josh Hader (96 MPH 4s middle in)
Turning on a 96 MPH fastball from Josh Hader is not something you see every day. Mookie's short swing and bat speed is on full display here.
HR vs Luis Severino 4-seam
Severino wanted to throw this pitch away but misses middle in and Betts makes him pay. Betts does so well to pull his hands in and get the barrel to this 95 MPH fastball. 
Watch how short of a path his barrel takes. What helps him have that short path to the inside quadrant is the vertical position of his bat before he swings. This is unlike Carroll (again, read what I wrote about him here) who holds his bat more horizontal. 
HR vs Logan Webb sinker
Logan Webb produces a grounder on 67% of the balls in play on sinkers to right-handed batters. Normally a sinker in that location is a fantastic pitch, but not to Mookie. 
As Betts' hands move down into the zone the barrel follows right behind them. Because he's so direct to the ball he's able to get under this sinker. His back elbow is touching his belt and he can still generate enough power to drive this to left center. 
Betts has a plan at the plate and is able to execute it to perfection. Of course, he makes it seem way easier than it actually is. His eye at the plate, hand speed and pure athleticism really separate him from other players.
COLD ZONE
Focusing on pulling and lifting the ball is great for pitches on the inside quadrant, but not so much on the outside quadrant. Mookie really struggles on pitches away: In 114 AB ending with a pitch outside he has 20 hits (.175 avg).  
If a pitcher needs a strikeout they have to attack him away, his swing and miss percentage is 24.5% and he's struck out 38 times. The heat map from Baseball Savant below shows all of Betts' strikeouts this season.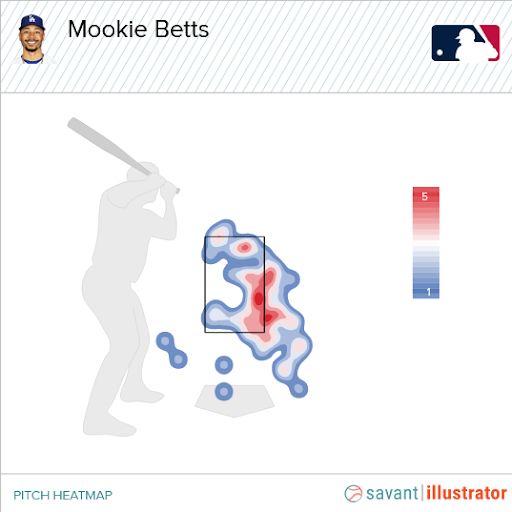 Baseball is a difficult game, every hitter has a hole in their swing. The best hitters take advantage when pitchers make a mistake and throw it where they like it. Betts is just one example of that.