Photo: Gregory Fisher/Icon Sportswire
As the Phillies head to the postseason for the second year in a row, it's worth noting that national viewers were first introduced to Bryson Stott around this time last year. This time around they'll be seeing a considerably improved player.
In 2022, Stott hit.279 with a 107 WRC+ from August until the end of the season. He also began to display some key traits during the Phillies deep playoff run that foreshadowed future success.
Despite only posting a .482 OPS in last year's postseason, Stott was able to work deep counts by fouling off pitches and generally being a pest at the bottom of the Phillies potent lineup. He ended the postseason averaging over 4.6 pitches per plate appearance, including a 12-pitch walk against Rafael Montero and a 10-pitch walk against Justin Verlander.
Moving into the 2023 season, Stott shifted to second base to accommodate Trea Turner. This paid off immediately, as Stott put together a 17-game hitting streak to begin the season and continued to provide solid performance in all aspects of the game.
Before a cold September, Stott maintained a batting average near .300 for almost the entire year, en route to a 4-bWAR season. Now established as an excellent starter on a playoff team, it's worth looking at how he reached this point so quickly and how these experiences point toward greater success moving forward.
Plate Approach
While Stott had some success golfing low-and-in pitches early last season, the gains were largely offset by his struggles in other areas.
Baseball Savant summarized his struggles against four seamers in general His -14 Run Value ranked 6th-worst in MLB. He hit .119 with a .214 slugging percentage against what our pitch classification system labeled high fastballs. Stott worked to flatten his bat path and give himself a better chance to do damage against high heat. After undergoing several mechanical tweaks it appears he has found a suitable approach for his profile.
Here are some examples of these changes:
April 8 2022:
August 22 2022
September 12 2023
Take note of both his lower-body stability and hand positioning as the pitch is released. Early in his career, he used a two-piece low leg kick where his foot is in the air at release. He would then pivot the foot back open and combined with his high upright hand position, this allowed him to open his hips and attack pitches low and in.
However, upon recommendation from Jean Segura and hitting coach Kevin Long (as documented by the Philadelphia Inquirer's Alex Coffey), Stott began using a more conservative two-strike approach at all times starting in August. As seen in the second clip, Stott has crouched down significantly, lowered the angle of his hands, and kept his feet quieter by loading with an exaggerated rock and lean.
Moving to the most recent clip, Stott adjusted further this season. Here, he lowered his hands again, adopted a heel tap for better balance, and closed off his front foot a bit. Each aspect generally assumed a more natural position, giving him a very relaxed and controlled demeanor at the plate.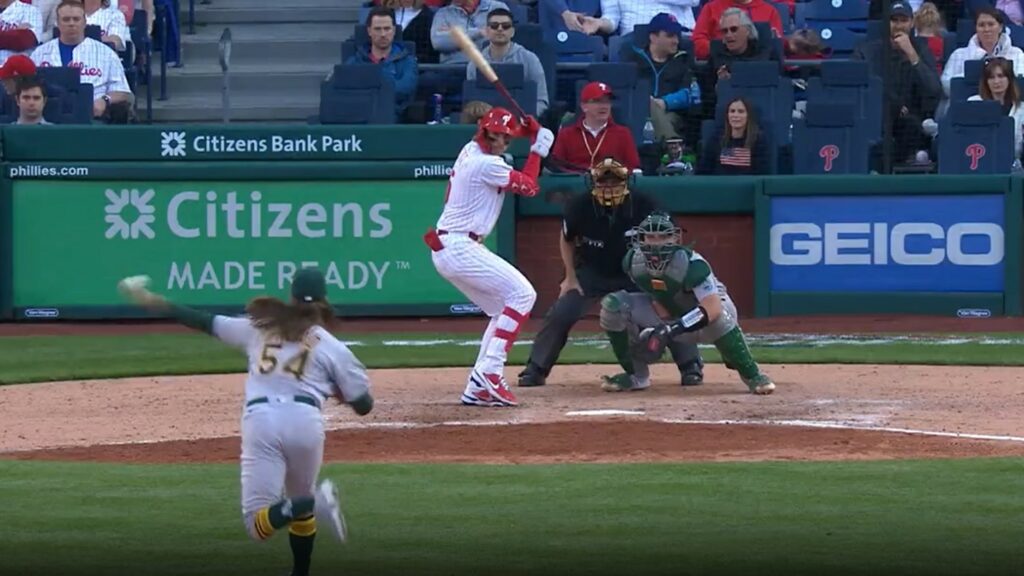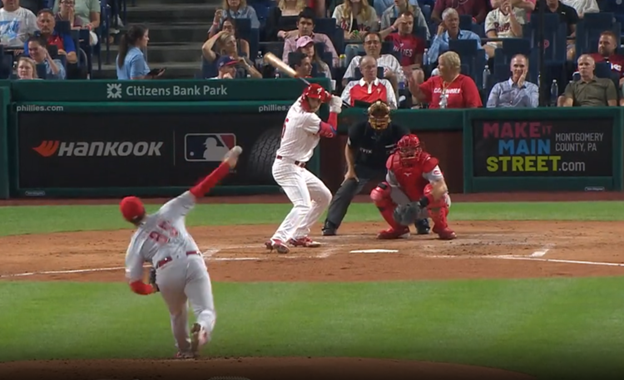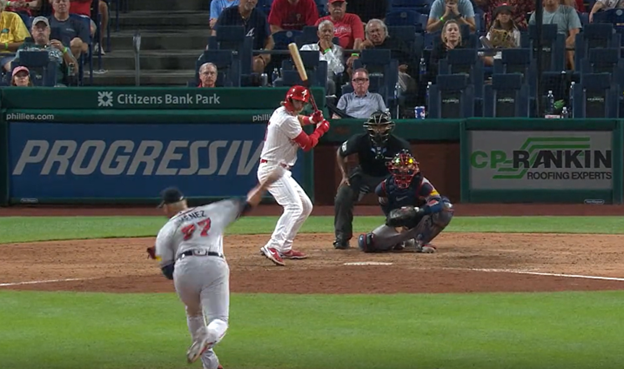 As a result of these changes, Stott posted a .278 average and .454 slugging percentage against high fastballs this year. In addition, he's boosted his numbers against fastballs in general, with his average jumping up over 100 points and his slugging nearly 150 points.
With his primary weakness addressed, Stott was now free to demonstrate more of his skill set. As demonstrated during the playoffs last year, Stott is well suited to working long at bats, possessing a patient early approach with the 7th-lowest first pitch swing rate (16%) and strong bat-to-ball skills with the 8th highest contact rate (85%). As a result, he ranks 17th out of 137 qualifiers in pitches per plate appearance at 4.17, putting him in the same neighborhood as other notably selective hitters such as J.P. Crawford, Ian Happ, and Juan Soto.
The combination of contact and contact quality is in question for every hitter, so it is interesting to look at some of Stott's peers in regards to contact and how he stacks up in some other relevant batted-ball numbers. Here are the 10 best hitters by swinging-strike rate.
| | | | |
| --- | --- | --- | --- |
| Name | Swinging Strike Rate | Avg exit velo | Opposite-Field% |
| Luis Arraez | 3.1% | 88.3 | 31.% |
| Steven Kwan | 3.9% | 86.0 | 31% |
| Alex Bregman | 4.9% | 88.6 | 22% |
| Myles Straw | 5.1% | 86.3 | 35% |
| Nico Hoerner | 5.1% | 86.6 | 29% |
| Alex Verdugo | 5.6% | 89.2 | 25% |
| Adley Rutschman | 5.6% | 88.4 | 29% |
| Mookie Betts | 5.8% | 92.4 | 18% |
| Lars Nootbaar | 5.8% | 89.1 | 25% |
| Bryson Stott | 6.0% | 88.1 | 32% |
Players such as Adley Rutschman and Mookie Betts present some outliers since they possess enviable amounts of both contact and power, but it's encouraging to see that Stott seems to slot into a second tier here, frequently producing useful contact but also providing better raw power indicators than the purely slap hitters on this list. Opposite-field percentage is also included to show that Stott is skilled at making contact to all fields but still makes authoritative contact when given the chance to pull the ball.
Defense and Baserunning
Bryson Stott's defensive improvements should also be noted. After putting up mixed defensive numbers at shortstop, he has adapted quite well to second base, as he is tied for sixth at the position with +7 Defensive Runs Saved. In particular, his progress seems to stem from better arm utility. He exhibited plus range at shortstop last year, saving six runs with his range, but this was offset by his -7 throwing runs. Now at second base, he continues to show off his range (+6) but is able to pair this with improved throwing numbers (+3).
Stott played an aggressive second base. His 80 sliding, diving, and jumping attempts ranked 2nd in MLB. His 31 plays made on slides, dives, and jumps was surpasses at second base only by Andres Gimenez. Here are two examples of how he uses a dive and a slide to each side, executing both smoothly to adjust his momentum and prepare him for the throw to first.
One area that could still see future improvement is his general chemistry with Trea Turner, specifically demonstrated in their double play numbers. While not as drastic as primary defensive numbers, double play turns are another way that a good second baseman and shortstop can make an impact. Both Stott and Turner have struggled to convert double plays and are rated at -4 runs in this area, which is the worst mark at each position. Turner has not been a good defender this year and with both players still adjusting to this configuration there is still some room for growth here.
Stott is also a plus baserunner and is an especially efficient base stealer, with 31 steals in 34 attempts. By Bill James' baserunning stats, his +25 Stolen Base Gain rating tied for 8th in baseball behind names such as Ronald Acuna Jr., Corbin Carroll, and Turner (this stat values both volume of steals and success rate).
Dancing On My Own
On top of everything else, he is a great presence in postgame interviews, as some combination of Stott, Bohm, and Marsh shower the interviewee with water cups, sunflower seeds, and anything else from the dugout that is readily available. Here is what it looked like after the final game of the regular season:
With so many talented young stars in the game, Bryson Stott has quietly turned himself into one of the most well-rounded ones in only his second season. It will be exciting to track his development not only in this postseason but for many years to come.