BY LINDSAY ZECK
Angels right fielder Kole Calhoun has had one of the most unusual seasons of any player in 2018. His offensive performance has been well below his usual standards, but his defense is keeping him afloat.
The hitting
Of all the qualified batters in the game, Calhoun ranks last in batting average (.151) and last in OPS (.389).
His main downfall has been his inability to beat the shift. He has been shifted at least partially on all but two of his groundball and short line drives this season.
As seen in the chart below, Calhoun has hit 80 percent of his grounders and short line drives to the right of second base — right into the gloves of his shifted opponents.
Locations of Calhoun's Groundballs and Line Drives, 2018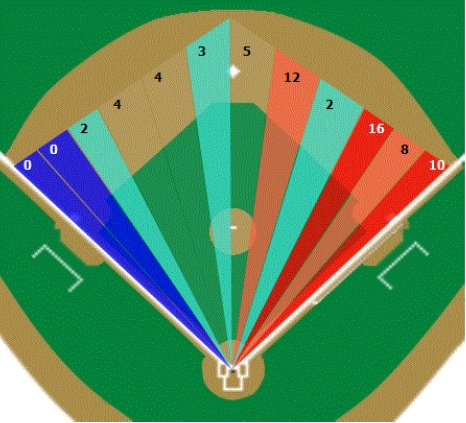 See the first slice to the right of second base. Take that one and all of the ones to the right of it. Calhoun is a combined 4-for-53 on those balls this season. He's not even close to the MLB average just on ground balls hit to the right of second base (.222).
Calhoun is tied with Tigers DH Victor Martinez for the most net hits lost due to the shift this season with 11. Had these 11 hits got through the infield, his .151 batting average would increase to a more respectable .221.
The defense
Calhoun's case to remain in the starting lineup, despite his slow start at the plate, lies with his great play so far in right field. He has already saved the Angels seven runs this season in 398 innings.
This is more than he has ever saved his team and he still has just over two-thirds of the season left to play.
His eight Good Fielding Plays in right field are tied for third-most in the league at the position, behind only Carlos Gomez and Stephen Piscotty. He also has yet to commit an error and has only three Defensive Misplays.
Perhaps Calhoun's biggest strength this season has been his arm:
• He has four Outfield Arm Runs Saved—tied for second most in the league behind Aaron Judge (5).
• Four of his eight Good Fielding Plays are due to his ability to throw out baserunners. One of which was this double play last week where Calhoun threw out Curtis Granderson at home plate.
• He is tied with Lorenzo Cain, Aaron Judge, and Josh Reddick for the most Outfield Kills—an outfield assist without the use of a relay man — with five.
• Baserunners are taking less chances with Calhoun this season. They have attempted to take an extra base on only 13 of 33 opportunities (39 percent) — in line with Calhoun's career best in that department.
Calhoun hasn't been a stranger to the highlight reel either with plays like this catch against Marcus Semien in March or this one that robbed Gleyber Torres of an extra-base hit back in April.
In order for Calhoun to be given the chance to keep succeeding in the field, however, he needs to perform better at the plate and figure out how to beat the shift—a .151 batting average may not cut it much longer.