By EZRA RAWDON
Red Sox catcher Sandy León has been the topic of much conversation in the baseball universe of late, thanks to this play and the fact that his team is 40-15 when he catches a winning percentage nearly 30 points higher than their absurd overall pace of .698.
As someone who got to see León when he was in the Nationals organization with my hometown Double-A Harrisburg Senators (I was a clubhouse assistant, I think I scrubbed his cleats on occasion), I've taken a special interest in following his progress. I decided to take a look at what he brings to the table for the Red Sox this season.
León is tied with Jeff Mathis of the Diamondbacks and Austin Barnes of the Dodgers for the lead among backstops in Defensive Runs Saved with a total of nine thus far this year. The component-specific breakdown is as follows
Adjusted Earned Runs = 3 runs saved
Stolen Bases = 1 run saved
Bunts = 0 runs saved (despite the play linked above)
Strike Zone (pitch framing) = 6 runs saved
Good Fielding Plays/Defensive Misplays (pitch-blocking) = -1 run saved.
Leon is doing well by the Red Sox pitching staff, mainly through his game calling (Adjusted Earned Runs Saved) and pitch framing (Strike Zone Runs Saved).
This image shows the overall called strike rate for Red Sox pitchers by area within and outside the strike zone when Leon catches. Pay special attention to the second row in red, which covers the top of the strike zone. Leon is considerably better than MLB average at getting that pitch.
Sandy León Called Strike % by location (Pitcher's View)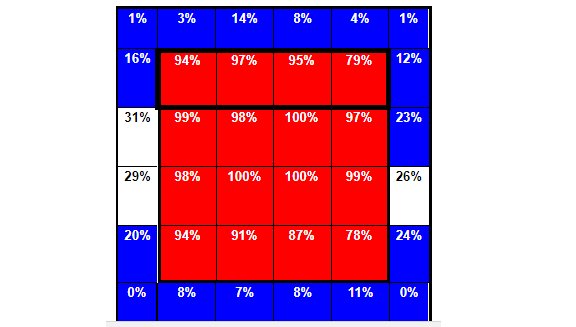 And here is the MLB average by location, with the same area highlighted.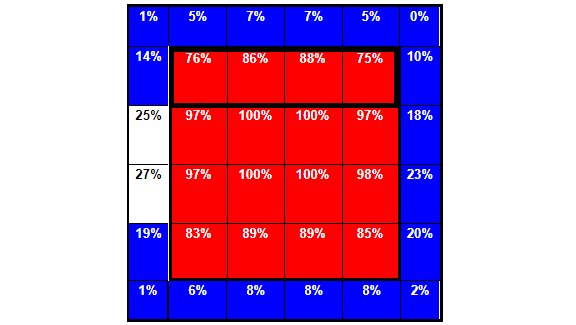 When looking at left and right-handed hitters individually, we also noticed that León gets his pitchers calls on pitches out of the strike zone, especially off the outside corner with a left-handed hitter up.
As for the running game, León doesn't completely stifle it. He has snuffed out only 24 percent of theft attempts this year. But his one run saved through base stealing indicates he is somewhat of a deterrent behind the plate. While Leon's throwing isn't going to star in highlight reels, he is pretty accurate with his throws.
He rarely misses to the left-hand side of second base.It is far better for a catcher to miss on the right-hand side of the bag, where the fielder at least has a chance to make a tag.
Ultimately, a fair assessment of León may be that while he is not amazing at anything, he is at the very least serviceable at everything, and good to very good at many things.
After all, there has to be something to be said for being the personal catcher of one of the most dominant pitchers in baseball, Chris Sale.
Tony La Russa once said of Yadier Molina; "I don't care if he bats .000, I'm still running him out there because of his defense."
The Red Sox have no hesitance to do the same with Leon.