The College Baseball World Series provided plenty of great performances, none bigger than the pitching of Cade Horton from Oklahoma and Dylan DeLucia from Ole Miss.
Cade Horton:
Cade Horton dominated with a newly-found slider he learned from teammate Ben Abram just 3 weeks prior. The pitch has sharp late action and good depth in the upper 80s. It's turning into an elite pitch as it darts underneath bats.
Horton leaned heavily on the slider which has become a true plus pitch for him that flashes plus-plus now. With a standard slider grip and a simple thought process behind it, he throws it like a fastball until the very last moment, when he gets out in front of it.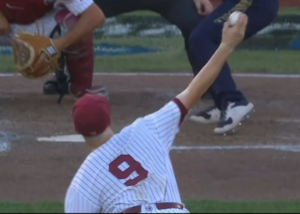 The result is a pitch that gets tremendous depth and is tight in spin, making it hard to pick up.
𝙃𝙚𝙡𝙡𝙤, Cade

📺 ESPN pic.twitter.com/L0wzHkG0SE

— Oklahoma Baseball (@OU_Baseball) June 26, 2022
Add in an explosive fastball with late life and some natural cut, along with a nice big curve in the low to mid-80s and you get a pitcher whose confidence and his draft stock have skyrocketed with each pitch.
Horton produced a gaudy stat line in Omaha:
13 1/3 IP, 9 H, 4 ER, 1 BB, and 24 strikeouts!
Yes, 24 strikeouts, including 13 Rebels in the 2nd game of the CWS Finals, the most in a Finals appearance.
Dylan DeLucia:
Dylan DeLucia was a major reason why Ole Miss lifted the trophy in Omaha this season. The big right-hander became the dominant force of the CWS.
Collecting 2 wins in 16 2/3 IP with 1 ER, 8 H, 0 BB, and 17 K over two starts, the 22-year-old junior relentlessly attacked hitter after hitter.
DeLucia uses his fastball with late life and arm-side movement and a short mid-80s slider to attack the lower part of the strike zone.
DeLucia showed no fear going right at hitters he demonstrated consistent control of the strike zone and just enough command to miss bats and barrels.
Even when DeLucia had a slider back up on him or a fastball miss in the zone, batters could not square him up in the CWS.
The pair of pitches work in tandem and stay on the same plane to the plate throughout the first 50 or so feet. The combo works well movement-wise with a short late break in two opposite directions just getting the ball off the barrel of the bat.
DeLucia had a great feel for his slider and fastball, but even when DeLucia had a slider back up on him or a fastball miss in the zone, batters could not square him up. The righty has good deception in his delivery and got swings and misses in and out of the zone.
He worked in and out of trouble to reach the CWS finals against Arkansas. When DeLucia's Ole Miss team needed it the most he delivered the best performance of his college career: Nine shutout innings of four-hit ball. He was the ultimate competitor that day and demonstrated a bulldog mentality on the mound in both of his CWS starts.
I don't think even Darren Sharper, the hardest hitting safety in the league, could've stopped Dylan DeLucia on the bump today pic.twitter.com/w6doeyUQiN

— Stephen Schoch (@bigdonkey47) June 23, 2022
DeLucia won "Most Outstanding Player" at the College World Series and delivered on the biggest stage in college baseball by being fearless and going right at hitters.
Both DeLucia and Horton showed that a belief in your pitches and confidence to command not only the strike zone but a presence to command the mound can go a long way in succeeding.