Milwaukee Brewers closer Josh Hader, one of the most dominant pitchers in baseball, is currently in a slump, having allowed nine runs in his last two outings.
Pitching slumps usually don't get talked about as much as hitting slumps but both are similar. Pitchers can get into bad funks, develop new habits, and lose their usual way of what makes them so great.
A closer look at a combination of video and data from Hader, who was unhittable for the first two months of the season, led us to find something that was a little different compared to his usual dominant self.
His pitches may be easier for hitters to pick up
What's changed?
The average horizontal and vertical movement on his fastball and slider have not changed much. His velocity and spin rates are consistent with what they usually are. His mechanics are just as clean and fluid.
But some of the advanced metrics are starkly different from 2021 to 2022. It seems like Hader has lost some of the deception that made him great.
| | | |
| --- | --- | --- |
| | 2021 | 2022 |
| Batted Ball Events | 96 | 61 |
| Barrel % | 6% | 16% |
| Hard Hit % | 30% | 36% |
| | | |
| First Strike % | 60% | 53% |
| Zone Swing | 68% | 61% |
| Zone Contact | 69% | 74% |
| Swinging Strike % | 21% | 16% |
One thing that always separated Hader is his low arm slot and how far towards the first base side of the mound he throws from. The best version of Hader throws his fastball up in the zone and get swings and misses. His fastball always has some of the best "rise" to it because its coming from such a low slot. Hitters can't touch it.
This season it appears that Hader is throwing from a slightly different average release point. This may be making it easier for hitters to pick him up.
Hitters are swinging less at pitches in the zone but when they do swing, they are making contact more frequently. Not only are they making contact but they are barreling his pitches almost three times as much as last season. Since his pitch metrics haven't changed, this could be a product of his new release point.
Baseball Savant's 3D pitch illustrator is an awesome way to show the difference between his average release points in 2021 and 2022. Not only is the average release in 2022 higher and less horizontal from the middle of the mound but he also has two different release points for righties and lefties. In 2021 the fastball had only one release point. The slider had two but they were very close together.
| | | |
| --- | --- | --- |
| | Horizontal Release Point | Vertical Release Point |
| 2021 FB | 3 feet, 1 inch | 5 feet, 4 inches |
| 2022 FB | 2 feet, 10 inches | 5 feet, 6 inches |
| 2021 SL | 3 feet, 5 inches | 5 feet, 1/2 an inch |
| 2022 SL | 3 feet, 2 inches | 5 feet, 3 inches |
Hader's throwing from around 2 to 3 inches higher and 2 to 3 inches less horizontally than he was last season. It's affected his fastball more than his slider but both pitches have been hit more. The change in release height gives the pitch less of an appearance of rising and reduces its effective velocity. The pitch is now coming from a more conventional arm slot.
Hader usually owns the top of the zone, especially with the fastball, but this season is different. Hader's already given up more hits on the fastball in 2022 (14) than in 2021 (12). And more hits in the upper third of the zone already too.
2021: 5 hits, 64 outs vs upper-third fastballs
2022: 6 hits, 21 outs vs upper-third fastballs
Hader's fly ball percentage has also gone up from 46% to 56%.
April/May vs June/July
Considering that Hader didn't give up a run until June, it seemed worthwhile to break everything down month by month. The Baseball Savant vertical release graph below shows his fastball and slider release point has been increasing as the season has progressed. This has coincided with his struggles.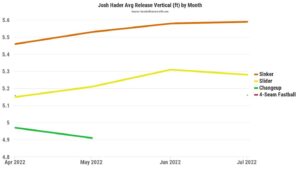 April and May
Vs fastball: .086 BA in 35 at-bats (3-for-35)
Vs slider: .000 BA in 17 at-bats
But once the calendar hit June, things started to change
June and July
Vs fastball: .306 in 36 at-bats (11-for-36)
Vs slider: .300 in 20 at-bats (6-for-20)
Even though the release point changes are small, it's the only thing that we've noticed about Hader has changed physically. For a pitcher like Hader that is so quick to the plate and usually repeats his delivery incredibly well, perhaps the change is affecting him.
Baseball is a game of struggles and the great ones always find their ways out of slumps. It's hard not to see a way that Hader gets back to his usual self because he's proved for so long how great he is. The Brewers need him to be the old Hader in the second half.