Returning former walk-on and junior college transfer Stetson Bennett, Georgia's offense performed even better this year than last, going from .13 EPA (Expected Points Added) per play to .18 and from 6th to 4th among FBS teams. In comparison, TCU's defense ranks 39th, an apparent mismatch on paper. But given the Horned Frog's strengths and improvements, the Bulldogs may face trouble.
TCU runs the 3-3-5, almost always featuring a head-up nose on the center. At linebacker, Dee Winters aligns to the wide side of the field, Johnny Hodges the short, and Jamoi Hodge the middle. Safety Bud Clark aligns according to the receivers, Mark Perry away from the receivers, and Millard Bradford in the middle. Jim Thorpe award winner Tre'Vius Hodges-Tomlinson and Josh Newton complete the secondary, locking down the corners.
While also their largest unit, the secondary ranks as the Horned Frogs best as well, at 11th in Total Points per play. The linebackers place lower at 42nd, and the defensive line even lower at 116th. In spite of the weakness up front, TCU rarely sends four or more to rush the passer, doing so only 45% of the time, the least in the FBS. Instead, the Horned Frogs normally sit in a three-high shell, from which they play Cover 3 on 34% of passes and Cover 1 on 35%.
Given their small, nickel personnel and relative lack of experience, with only four multi-year starters, the Horned Frogs look ill-suited to stop the Bulldogs smashmouth offense. TCU has  faced 12 personnel on only 20% of its defensive downs, but Georgia runs it on 59% of its downs. Its package also features two of the best tight ends in the country.
Brock Bowers and Dwayne Washington average .06 and .05 Total Points per play, both top-10 among tight ends with 400 or more snaps, and prove nearly impossible for linebackers to cover or safeties to shed. Bowers has even run the ball on a few occasions, toting the rock on jet sweeps, ends around and reverses. Despite their design for small, shifty, and fast receivers, these runs have netted the 6 '4, 230-pound Bowers 94 yards and 6.6 Total Points on 7 attempts. 
What TCU can handle
But surprisingly enough, TCU defends against two tight ends rather effectively, allowing -0.19 EPA per play against this package. To match run-heavy personnel on the field, the Horned Frogs compensate for their lack of size by quickly adjusting their alignment to the formation at hand. 
Given heavy packages, TCU can either go base, one-high and drop two safeties closer to the line of scrimmage, or drop Bradford into the box. Putting the two overhang safeties down low lets them force runs inside to the linebackers much more quickly, and moving Bradford's positioning gives the Horned Frogs an extra body to stop the run. These adjustments also leave TCU's coverage mostly intact, as it can rotate safeties to their proper spots depending on whether it calls zone or man.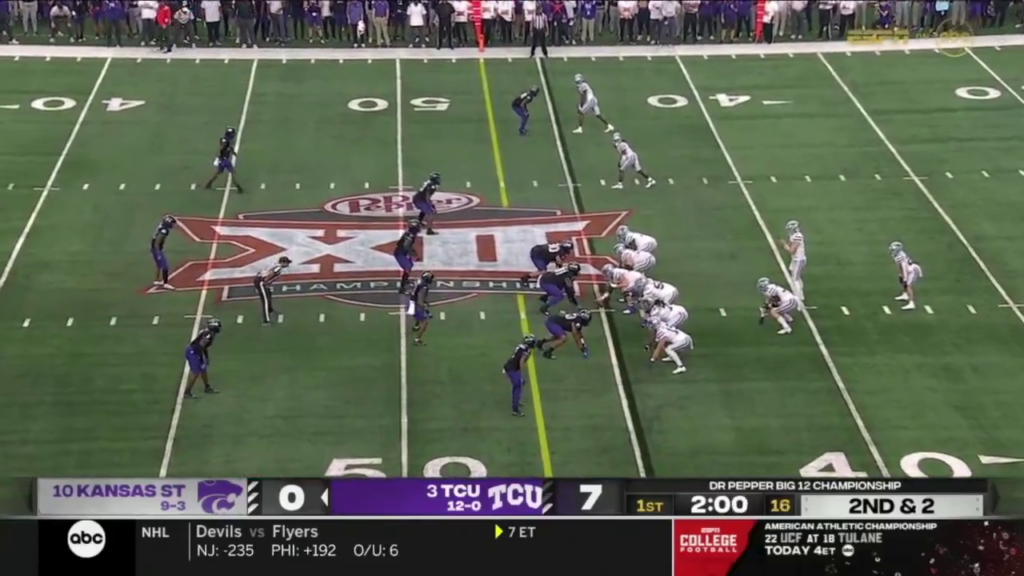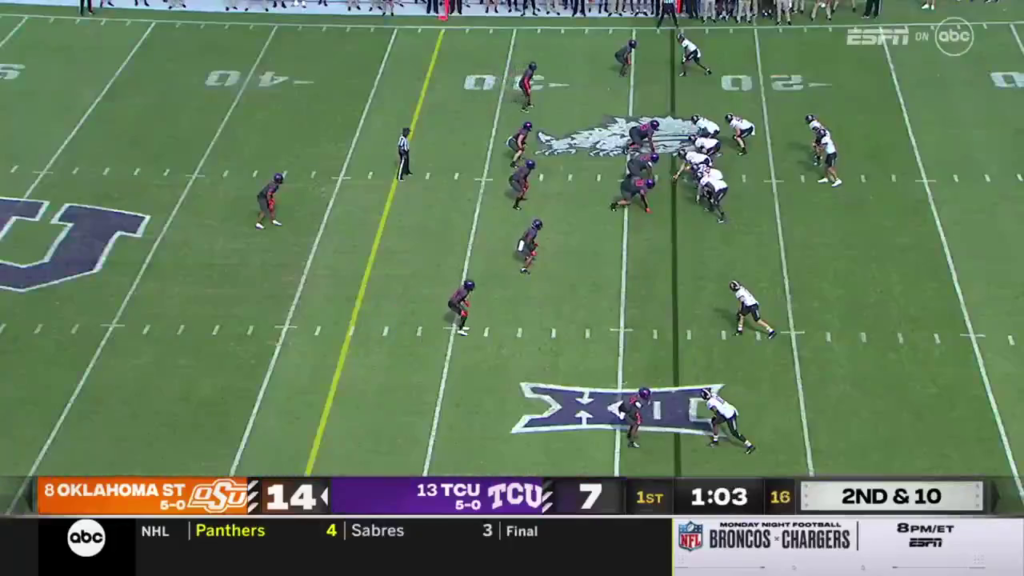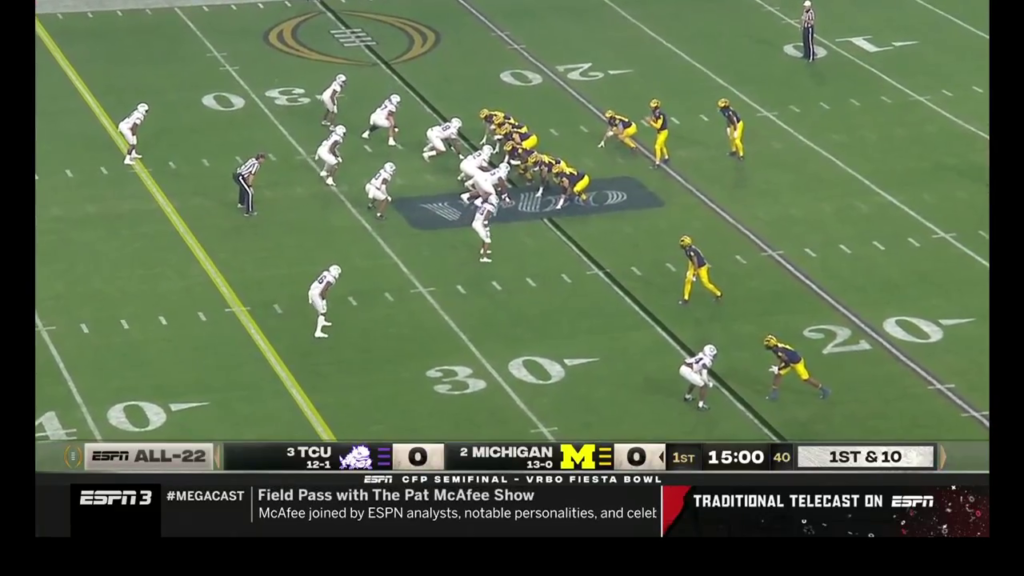 Normally teams struggle when forced to adjust their base defense, but TCU has thrived in this situation. As a whole, switching defenses has actually improved the unit, not weakened it.
Transitioning from Gary Patterson's 4-2-5 match quarters to Joe Gillespie's 3-3-5 three-high base, the Horned Frogs have lowered their points allowed per game by 8.5, risen 85 spots in EPA per play and 78 spots in Total Points per play from last season. TCU continues to improve too, having increased its EPA per play ranking from 73rd to 28th and its Total Points per play ranking from 49th to 28th between their first and last seven games.
The Bulldogs have a lot of weapons
Were Georgia limited to 12 personnel and keeping the ball on the ground, TCU's defense would pose severe problems for the Bulldog offense. But fortunately for the Bulldogs, they have more weapons at their disposal and other ways to attack the defense. 
Georgia has a reputation for smashmouth football, and given its personnel choices and EPA per run ranking (17th) it is deserved. But it earns more EPA per play out of 11 personnel than 12, and rank higher in EPA per pass (2nd) than they do per run. With Adonai Mitchell returning from injury and joining Ladd McConkey, the two tight ends, and Kenny McIntosh, the passing game should do even better.
Even more important for this matchup, these strengths of Georgia's offense align with relative weaknesses of TCU's defense. Even with five defensive backs on the field, the Horned Frogs allow .12 more EPA per play against 11 personnel than 12. Though TCU does defend the pass better than the run, Georgia's EPA per play margin between the pass and run more than doubles that of the Horned Frog defense. To add to the Horned Frogs' difficulties, certain sets and formations give the defense even more trouble.  
Against formations with different personnel to each side, for convenience called "unbalanced" formations and consisting of sets like trips, TCU allows only -.13 EPA per play. Facing balanced formations on the other hand, such as twins or a wideout and tight end to each side, the Horned Frogs give up .11 EPA per play. 
Exposing a potential weakness: Twins
At face value, this split seems rather strange, but judging from the Horned Frogs normal alignment, the issues become clear. TCU can align at least five in the box against unbalanced sets, align enough defensive backs over the receivers and fill the alleys if the offense runs outside. But against balanced sets, particularly twins, TCU must either keep only four in the box to stop the run, or match a safety, and one who will likely not have help, with a slot receiver.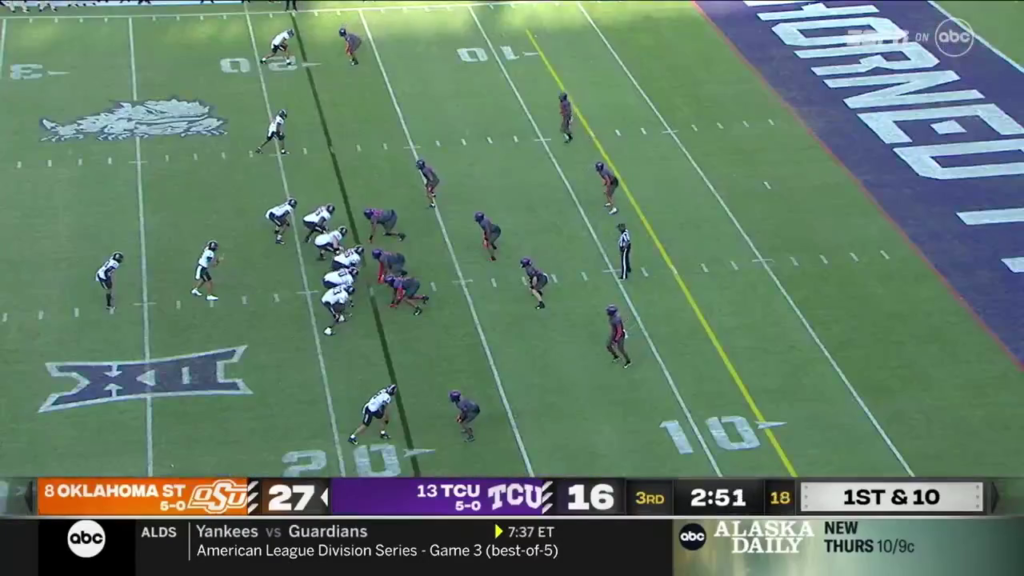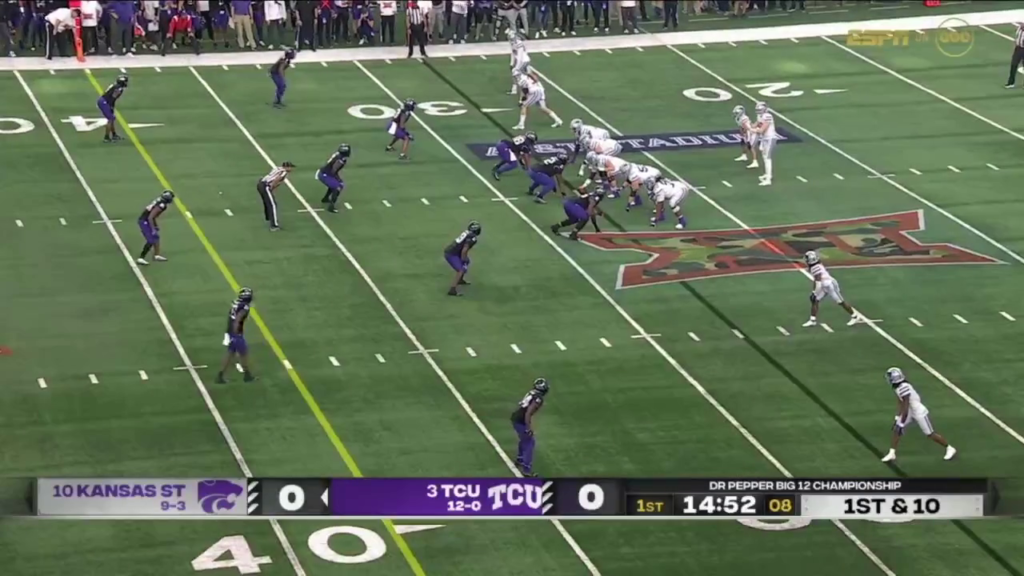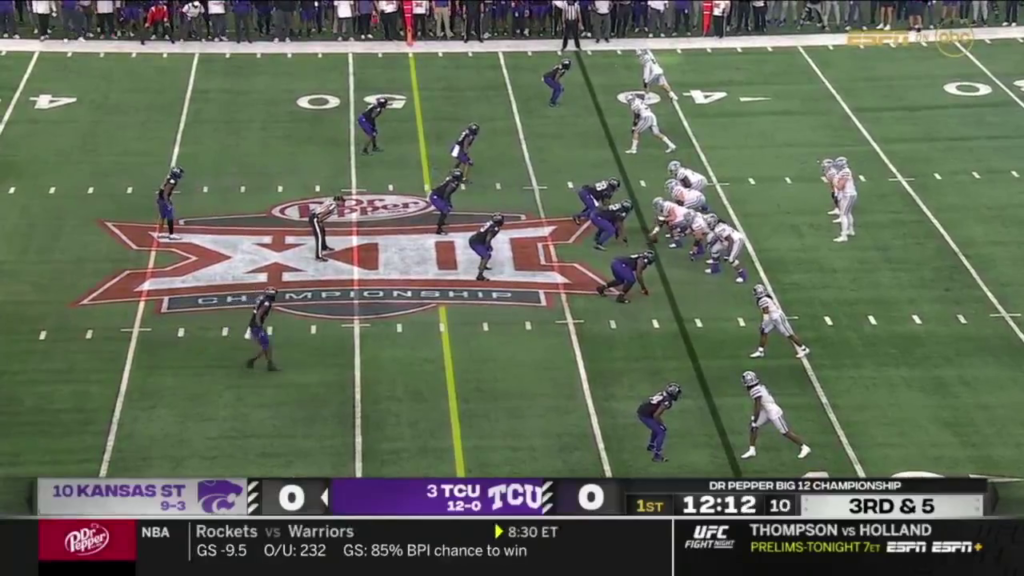 Unfortunately for TCU, Georgia produces .34 EPA per play from twins. Even worse for the Horned Frogs, the Bulldogs' most basic play stresses the seams in their defense. Out of the twins set, Georgia likes to run the inside zone, but with a pre-snap RPO for the receivers running the bubble screen, quick screen, or hitch. Depending on the look of the defense, Bennett can either carry out the zone-read against a shorthanded, misaligned, or blitzing box or throw the screen against an understaffed secondary.
The empty set exacerbates the issues in pass defense that TCU faces versus twins. The Horned Frog defense must either forfeit space to the receivers, risk a receiver burning an isolated defensive back for a big gain, or both. In the Peach Bowl, Georgia's Kenny McIntosh took advantage of the space against Ohio State to score a 25-yard touchdown off a tunnel screen. In the Fiesta Bowl, Michigan's Ronnie Bell beat TCU's backside safety for a 44-yard gain off a corner post.
Georgia will likely come out in 12 personnel and attempt to pound TCU into submission. The Horned Frogs could cave, but they have the scheme and the guts to stay in this game and force the Bulldogs to look for other answers. Georgia may find them, given enough time to test the right personnel, formations, and plays. But the TCU defense will not make it easy.